MyKiwiHouse Passive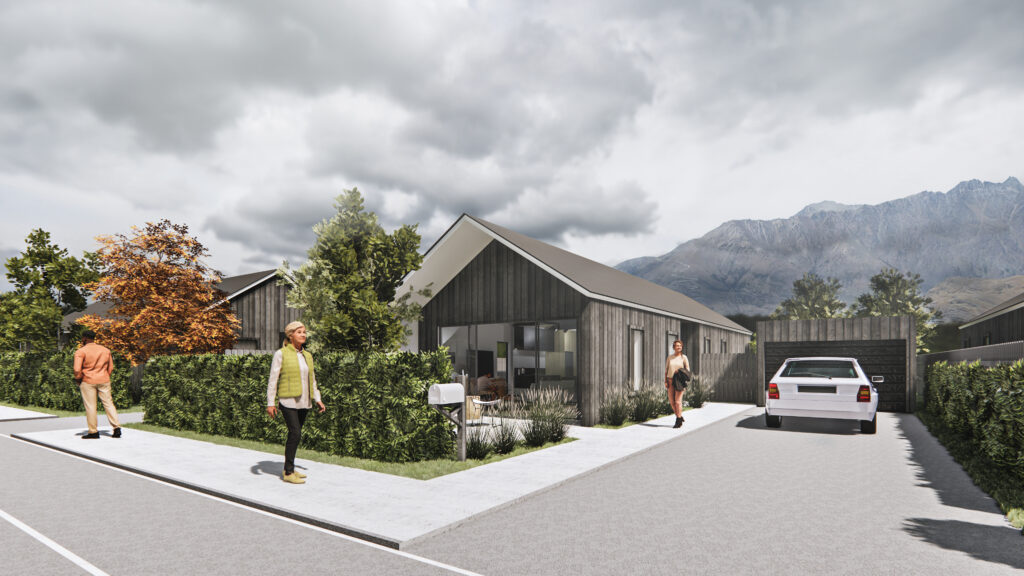 A better, smarter and more affordable home
MyKiwiHouse is combining the best practises from Europe and New Zealand into a smart and sustainable design, which is cost efficient not only to build but also affordable to live in. A warm, dry, well ventilated and healthy home.
Certified to 8 Homestar Design rating. 8 Homestar is evidence of a superior design (Building Code requirements are 4 Homestar).
The result is a home with far superior heating savings (up to 90% better) than standard Building Code compliant houses. The entire envelope has a thermal performance which meets PHI Low Energy Building Standard, i.e. energy demand of no more than 27 kWh/m2a (in Queenstown Climate Zone) ¹
The house can be Passive House certified at an additional cost.
Each house is Blower Door Tested at completion to verify airtightness.
Consistent Quality: Built by leading New Zealand construction companies, using certified material and innovative wall panel technology.
The Swedish 3-glazed timber / aluminium windows and highly efficient ventilation system prevents problems with condensation and moisture.
¹ Calculated according to Thermal Modelling as part of 8 Homestar certification.
Specifications of external shell
Walls
External walls from outside to inside:
Vertical Radiata Pine Weatherboard 18.5mm, H3.1, Primed and two top coats of acrylic paint
20 mm cavity, Radiata Pine cavity battens 20 x 45mm, H3.2
8mm OSB rigid Air Barrier
45 x 140mm studs, 600mm ctrs
140mm Earthwool (R-value 4.1)
Intello air barrier membrane to inside face of framing
45 x 45mm service cavity, 600mm ctrs, fixed through Intello to main wall framing
50mm Earthwool (R-value 1.4)
10mm GIB lining
Total Insulation R-value 5.5
Roof
Colorsteel Endura corrugate longrun roofing 0.55 mm on fire proof synthetic underlay. Colorsteel Flashings and Barges. 390 mm Earthwool insulation in ceiling (R-value 8.2).
Foundation
MAXRaft fully insulated foundation with insulated and plastered perimeter. R-value 4.5. Provides a complete thermal break between the foundation and the ground around, resulting in consistent temperatures throughout the house and superior energy efficiency.
Windows and doors
3-glazed Composite Windows and Composite Entry Doors are imported from Inwido in Sweden, which offers superior quality and energy efficiency at an affordable price. R-value 0.90. Inwido is Europe's largest supplier of windows and a leading door supplier. Inwido has over 4,400 employees and an annual turnover of SEK 6.4 billion. Inwido's products are currently sold in Sweden, Denmark, Finland, Norway, Austria, Germany, Ireland, Poland, the UK and New Zealand.
3-glazed composite windows
The 3-Glazed Composite Windows are made of treated solid Baltic Pine timber (FSC® certified) and aluminium combination. The external side has a cladding of powder coated aluminium which increases the windows' life and make the exterior virtually maintenance free. The solid timber interior provides good insulation and has a scratch resistant dual component paint finish.
Composite entry doors
The Composite Entry Doors, supplied by Inwido Diplomat Doors, have a bonded sandwich construction providing a high degree of stability, with the aluminium plates acting as an effective moisture barrier. The internal frame is made of treated solid Baltic Pine timber (FSC® certified). The insulating core gives an exceptional thermal performance. The low maintenance doors have a scratch resistant dual component paint finish and security glazing.The doors are supplied fully assembled, including external frame, door, glazing, locks and handles, keeping installation time and cost to a minimum.